COVID-19 Hospitality Hygiene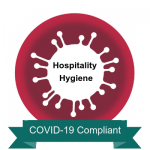 To say that this pandemic is shaking up life for a lot of people would be an understatement! Our online hospitality hygiene training course will help all employees in the industry sector plan and prepare for future adjustments whereby customers and staff alike are better protected from potential virus exposure as businesses reopen. It aims to ensure pandemic planning protections are in place going forward. Similarly, it provides knowledge and resources to help protect you and your customers. Above all, by making all tourism and hospitality businesses as safe as possible, customers will be more inclined to visit and this increases sustainability for the business.
What the course covers:
Understanding COVID-19 in the context of the tourism and hospitality industry
Maintaining personal and work environment hygiene practices
Reporting requirements of personal health issues
Reducing cross contamination and contactless procedures
Documentation: Cleaning/sanitising practices and guest registers
Mental and emotional health practices in the industry
After you successfully complete the course you will receive your electronic certificate via email.
Our hospitality hygiene course gives you the tools to ensure you can register as a COVID Safe business, as outlined by the NSW Government on the 9th of June 2020. Under Public Health Orders, hospitality businesses must have a COVID-19 Safety Plan for how your business plans keep your customers and workers safe. In addition, our course incorporates the documentation you will need to complete to comply with these orders.
Click here for more information and to enrol.