Our online tourism courses will help you develop strong business management and communication skills, therefore, broadening your job prospects in not only in tourism and events management, but any managerial position. The travel and tourism sector comprises many different industries and sub-industries, including services such as retail travel, currency exchange, tour operators and tour wholesalers. Similarly, it also covers passenger transport including coach, aviation, meetings and events, rail and cruising. Visitor attractions such as museums, theme parks, zoos and heritage sites are also a main part of the industry.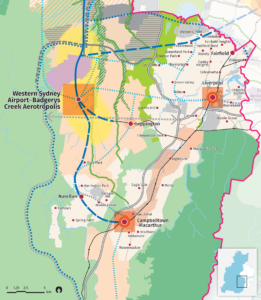 The Macarthur and Wollondilly regions are in an ideal position to leverage opportunities in the industry, due to construction of the Western Sydney Airport and Aerotropolis. Many tourist attractions and experiences are located in close proximity to one another. Well planned infrastructure and transport systems are expected to provide optimal accessibility to the area for inbound visitors, and in turn employment opportunities in the industry are expected to increase.
Studying one of our interactive online tourism and events management qualifications or short courses now will prepare you for this opportunity. Our tourism courses cover products and services, structures, as well as many operational activities within the industry. You will learn about tour operators, airlines, hotels and tourist boards, to name just a few industry stakeholders. There are many areas within the industry that you can choose to focus your studies on, depending on the career outcome you are aiming for.
We believe tourism is everyone's business and although the industry is presently suffering due to border closures, it will return, and it will bring with it innovation and many jobs.